Faster German A1 Course
Complete A1 in 14 days!
Get the Faster German A1 course now with Lifetime Access incl. Goethe A1 Exam preparation.
Bundle discounts:
THE MOST AFFORDABLE GERMAN A1 COURSE IS NOW AVAILABLE FOR LIFETIME ACCESS!
– built together with a Native German Speaker
Please write to us at bharat(at)bharatingermany.com if you are facing any problems in online payment. Any Visa or Mastercard works for enrolling in any courses on BiG Academy, Paypal payment is available on the main website and for NEFT net-banking transfer or EUR direct bank transfers, please write us an email.
Our Story
An ex-German beginner turned C2 level German speaker who did his M.Sc. in a German Taught Program at TU Hamburg and a German native speaker who grew up in Germany :
We built this course together for you because one of us has been where you are at right now and the other one can you give you a window to the German language, culture and pronunciations.
A better course than this, has not yet been made.
You don't need to do a German taught course to take this program, even though I did.
Simply, if you are going to be living in Germany, learning German will open up so many doors for you: in the job market, talking to people and just getting access to a lot more information that you are only able to process if you know German.
I did my Masters in a German taught program at TU Hamburg. And you can do too.
All you have to do is to take the first step with enrolling in this course.
Finish A1 German in just 14 days.
⭐ Fast
⭐ Self-paced
⭐ Affordable
⭐ Includes Quizzes
⭐ Lifetime Access
⭐ Vocabulary Lists
⭐ Digital Flashcards for fast revision
⭐ Exam Preparation for Goethe A1 included
⭐ Built together with Native German speaker
Don't make any compromises on learning correct German pronunciations!
Learn it directly from a native German speaker.
Want to start learning German? 🇩🇪
Scroll down through the 'Course Curriculum': Lessons which have 'PREVIEW' written against them are DEMO lessons for you to watch before enrolling!
– German Mini Vlog Exercise
– Speaking Exercise
– Orientation Lessons
You will not find a better course on the market at such an affordable price with access to native German speaker.
Bharat finished his Masters in TU Hamburg with the German taught Masters program M.Sc. internationales Wirtschaftsingenieurwesen and has helped hundreds of students to start their studies and career successfully in Germany with his online courses.
Access to Correct Pronunciations from Native German Speaker
At such an affordable price, many can't even think of getting access to a native German speaker. The alternative is that many people resort to 'German tutors / teachers' who do not speak German as their first language, the pronunciations as a result are far from how they actually sound in German. When you come to Germany, you'll be mostly listening to native Germans pronunciations. If you get used to bad pronunciations, you will face problems in 'listening comprehensions' (also in your Goethe exams) and will also have a difficult time understanding any announcements or conversations in Germany. With Faster German A1 course, you get access to a bonus section called 'German in Daily Life: German Mini Vlog Exercises' where Alina will show you to day to day things so you have a strong hang of the pronunciation and your listening and cultural understanding of Germany.

This is simply the best course out there for you to start learning German as a complete beginner.
The Perfect score: 100 / 100 in Goethe A1 Exam – Jeel's Experience
How can an online course with recorded lessons replace 'online / live' classes? Well, Faster German A1 Course CAN with the way it is built and the way it enables to students, motivates them and gives them actionable tips to completely ACE the language and the Goethe Exams!
94 / 100 in Goethe A1 Exam in 1 Month – Yatin from Delhi 🇮🇳
Yatin from New Delhi enrolled in the Faster German A1 course and as soon as he got time, started with full efforts. Instead of wasting time in live classes or commuting to physical classes, he learned on his own within 1 month cleared the Faster Goethe A1 Exam
89/100 in Goethe Exam A1 in 1 Month – Anne from Chennai 🇮🇳
The Faster German A1 costs only 4999 INR. Can it even work? Well, Anne from Chennai was really happy to open up her computer screen and see that she did so well in the exam without spending 15-25k INR for 'live classes' or other language institutions and recommends this course with full confidence to new German learners who want to learn German fast.
85/100 in Goethe Exam A1 in 1 Month – Parami from Sri Lanka 🇱🇰
Parami is just in her class 12th, but she knows how important it is to get started with learning the language to build her career in Germany. Despite all the difficult situations at home, she managed to score 85/100 marks in Goethe A1 exam just in 1 month. We congratulate her for her excellent result!
85/100 in Goethe Exam A1 in 1 Month – Manas from Dubai 🇦🇪
During his 12th grade itself, Manas started studying the German A1 level and he passed the Goethe A1 exam with 85%. Manas says the 'course teaches you a lot compared to other language courses for the price it offers. As it just the first level of German, you can spend lesser time and pass the exam successfully'. Manas is a very studious person and is already enrolled in Faster German A2 and B1 courses too.
82/100 in Goethe A1 Exam in 15 days – Shital from Pune 🇮🇳
As a working professional, Shital didn't have too much time during the day to sit in long live classes after a long day at work. So, she opted for the Faster German A1 course and instead of wasting time in online or physical classes, learned German on her own and cleared the A1 exam just in 15 days!
81/100 in Goethe A1 Exam in 2 WEEKS – Srija from Jamshedpur 🇮🇳
On 08th June Srija enrolled in the Faster German A1 course and on 24th June, she wrote the Goethe A1 exam and scored 81/100! Just in 2 weeks of preparation!
Shruti from Pune cleared her Goethe A1 Exam in 1 month
Being amongst the first students who enrolled in the Faster German A1 course, she followed the course diligently and didn't forget the importance of self-study either. Both combined and she didn't just start learning a completely new language, but cleared her Goethe A1 Exam in just a month!
⭐️ Happy Students – once they found Faster German A1! ⭐️
'I paid 13k INR to learn German A1 and just realised that this wasn't taught to me. I do not know what else wasn't taught to me. Thank God I enrolled in your course!'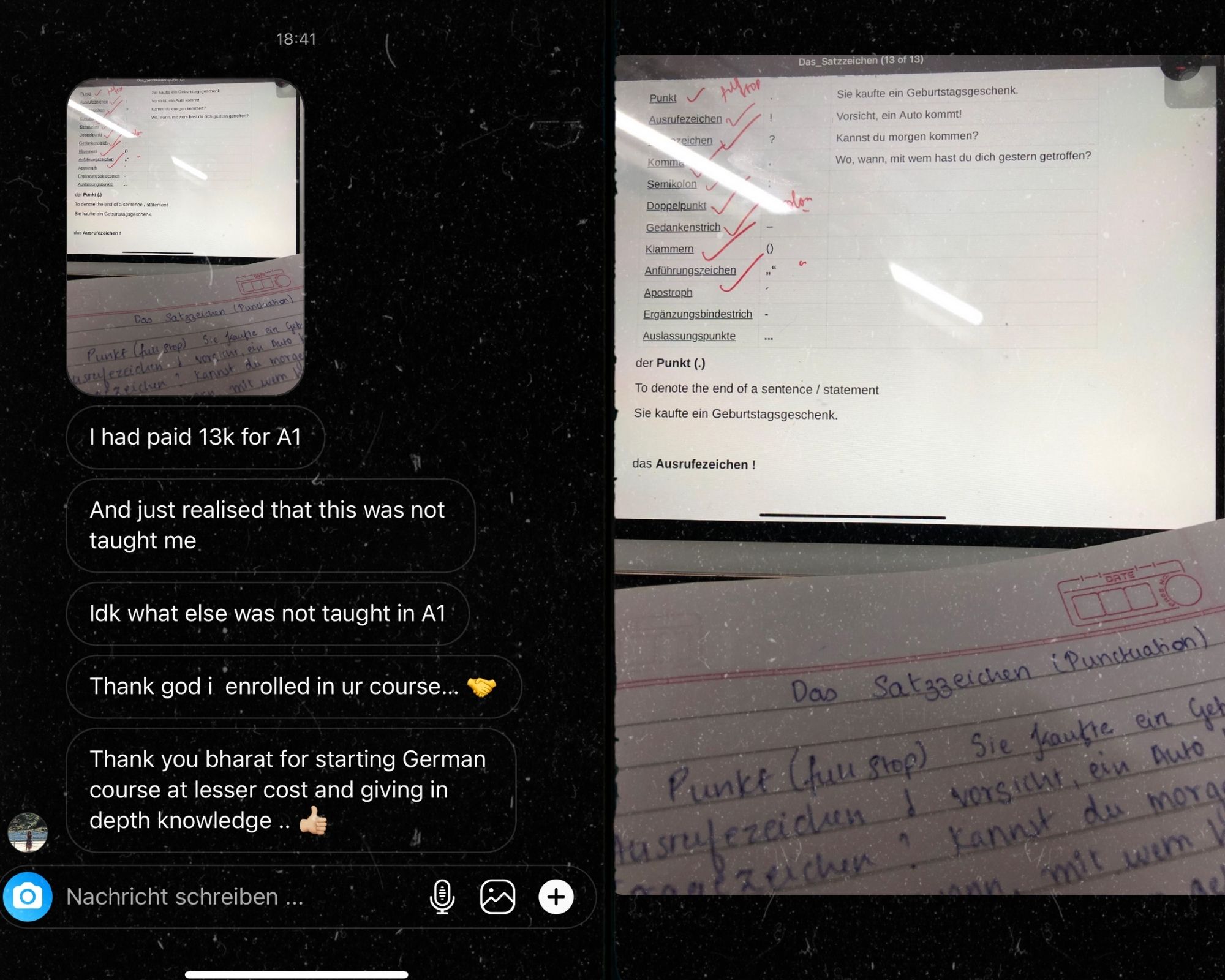 'My cousin was actually registered in a famous German teaching online classes in India and once I attended an online lecture with him. In a 2 hour class, hardly 30 minutes was actual teaching and the rest was just wasted in answering ridiculous doubts and stupid questions!'
This is actually a big problem in the live teaching method – spoon-feeding & ridiculous questions without any regard for others time. This I would understand if it would be great questions, but 99.5% of the times, these can be easily looked online on Google or any dictionary – You don't need to stop the class in the middle to ask the question why 'Mädchen' is 'das' and why 'Frau' is 'die', or what the 'gender' of a particular noun is – especially when these can be simply checked online.
If you are in a 'batch' and you are amongst the faster learners, you will waste a lot of your time listening to students are used to 'spoon-feeding', asking stupid question. That's the reason, Faster German courses are much better for you, especially if you prefer DIY format of learning.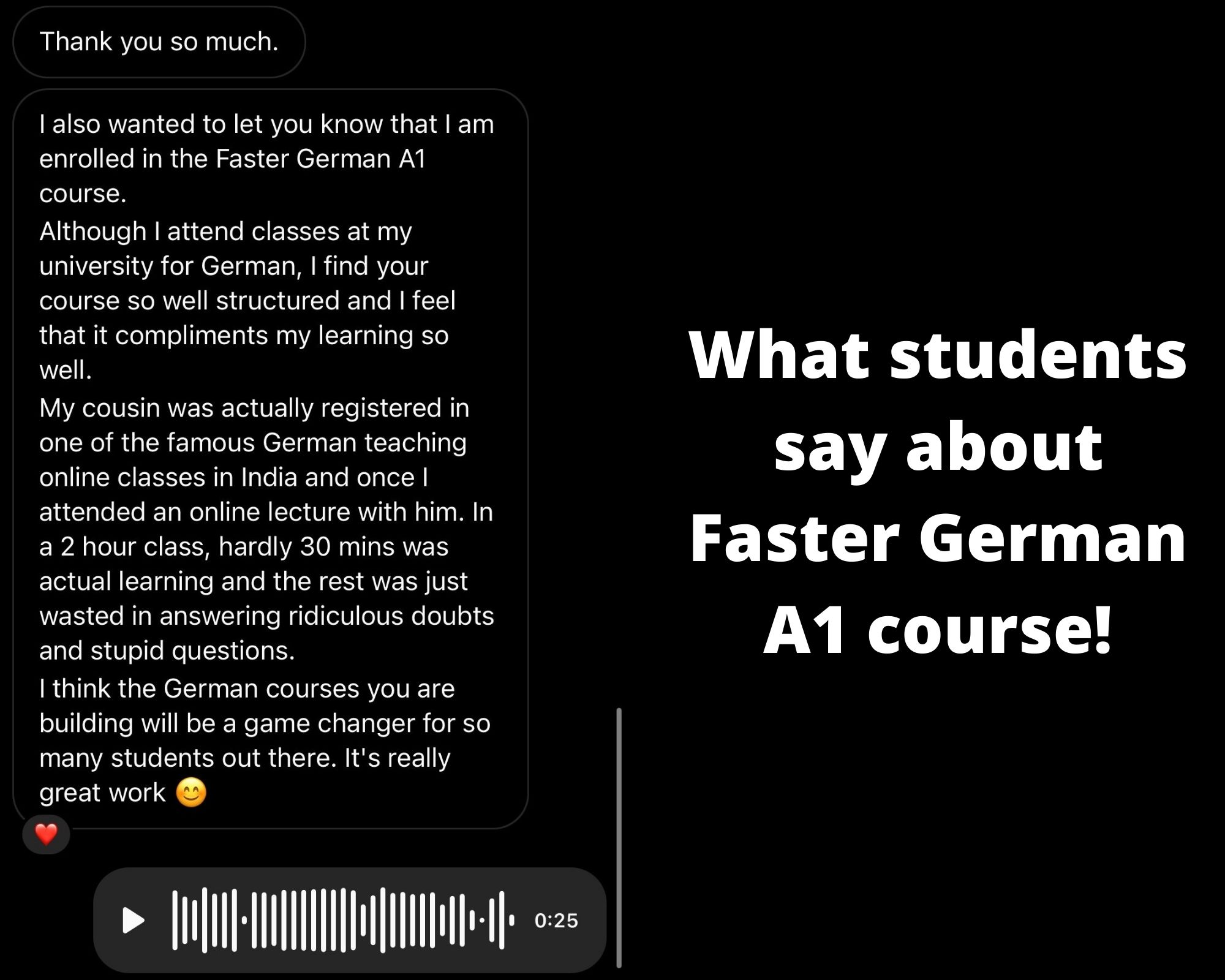 ⭐️ Excellent Goethe A1 Exam Results after Studying from Faster German A1 Course ⭐️
With the simple and easy learning strategies taught in the course, it is easy for students to clear their Goethe A1 Exam completely on their own. The course contains 3 Model Test Papers with solutions and additional exercises which help you excel in the exam. All you have to do is follow the course religiously and work hard (there is never an alternative for that)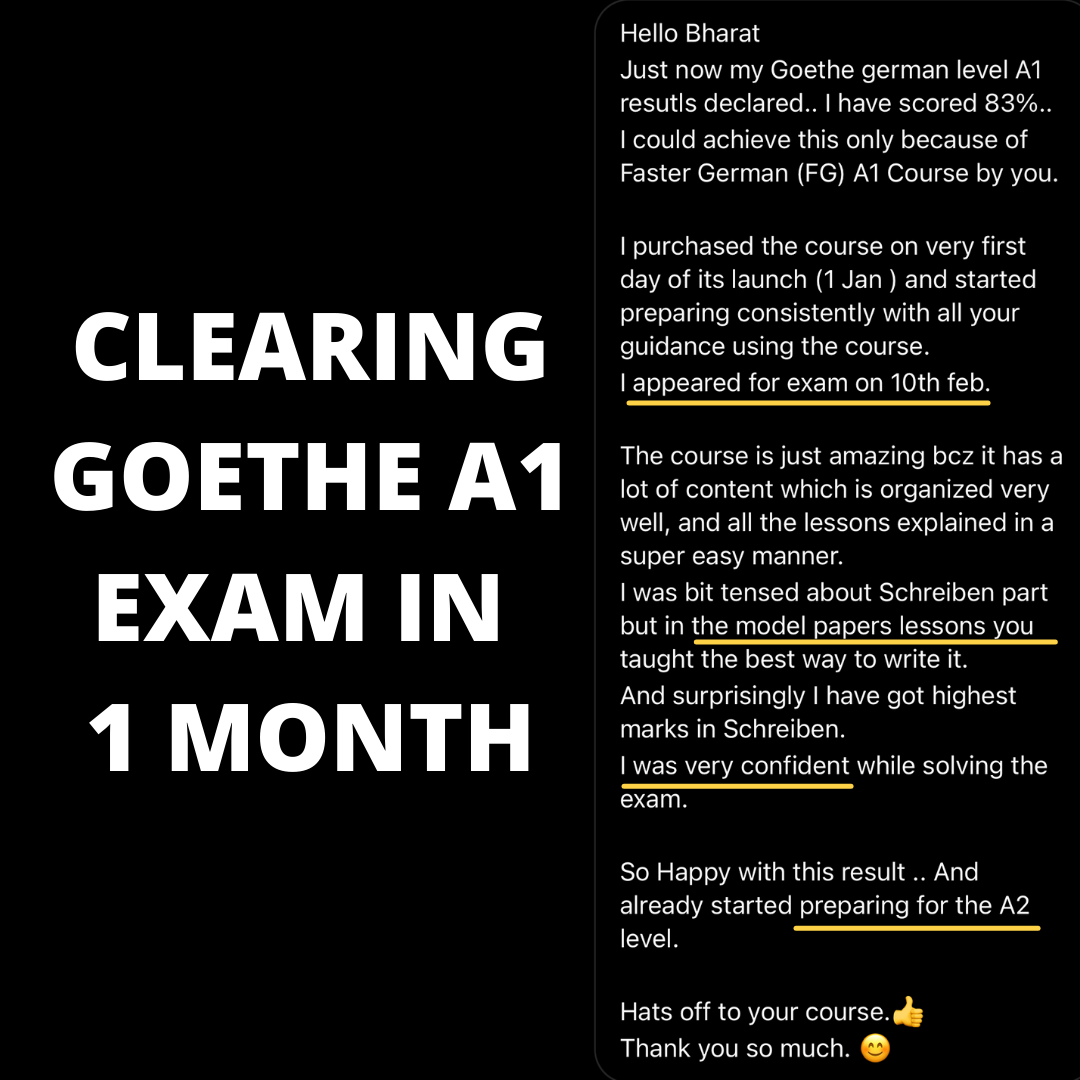 If you are a working professional and can only take out limited time in a day, again that is not a problem. You can then simply finish the course in your own pace and write the exam. With all the extensive material provided in the course, clearing the exam would be a piece of cake for you.